I am going to lease a horse named Gus (Gus Scribbles Two) this Christmas break and if it all works out we are going to keep leasing him for a year, then we might even talk about purchasing him. My riding teacher Holly has been there every step of the way with us, from leasing Shally to buying Shally to our first show together to her long sickness, and she's helped us through our grief. Now she is doing everything in her power to help us find a horse for me. And she is due to have HER BABY next saturday (yay! Cant wait to meet Baby Hansen!) And she is still driving down with us to see Gus (Who lives about an hour away from us, but we would bring him to the barn we kept Shally at, where the people are so nice, they kept her stall for us). Anyway, Gus is a 13 year old chestnut overo American paint horse. He is the sweetest thing and he loves attention. His owner (who took lessons from holly, thats how we found gus) is going to college and he doesnt get much attention anymore, but he loves everybody. He's like a big golden retriever, so happy and excited and he does best when he's with people. Anyway, we went and saw him today and i thought i should put some pictures up of him.
By the way his mane is REALLY long!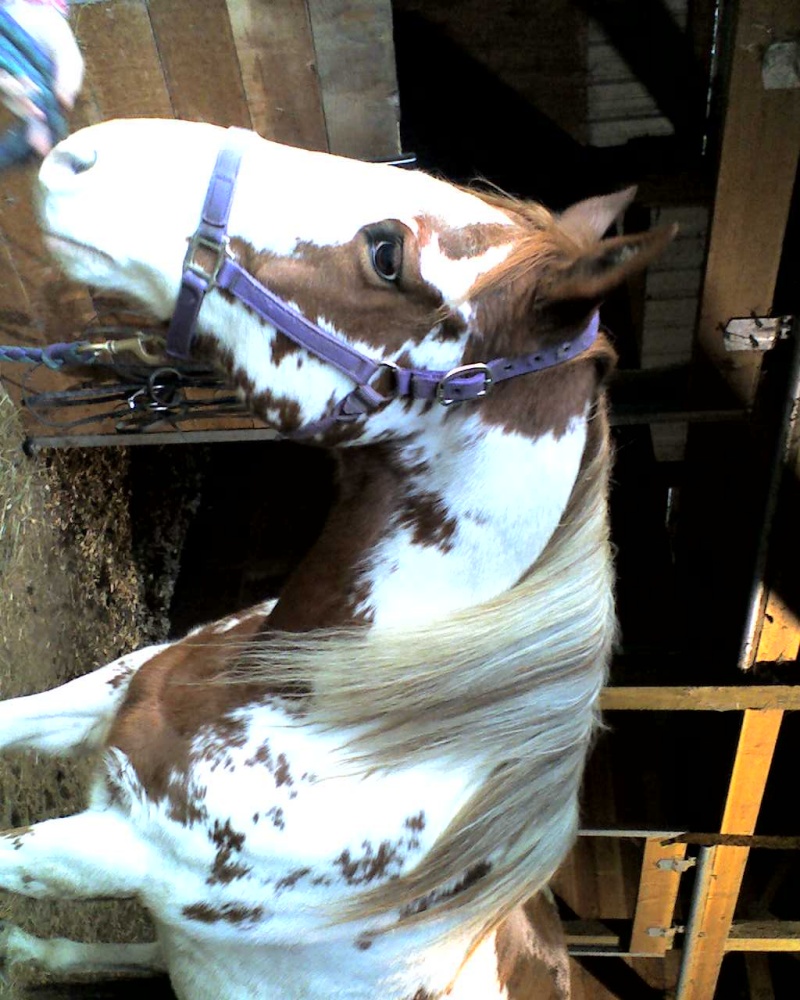 Good pic to show his coloring, remember, the only time he gets brushed and ridden is every 2 weeks when we get a chance to come see him. He's not neglected though, he gets fed and his owners love him very much.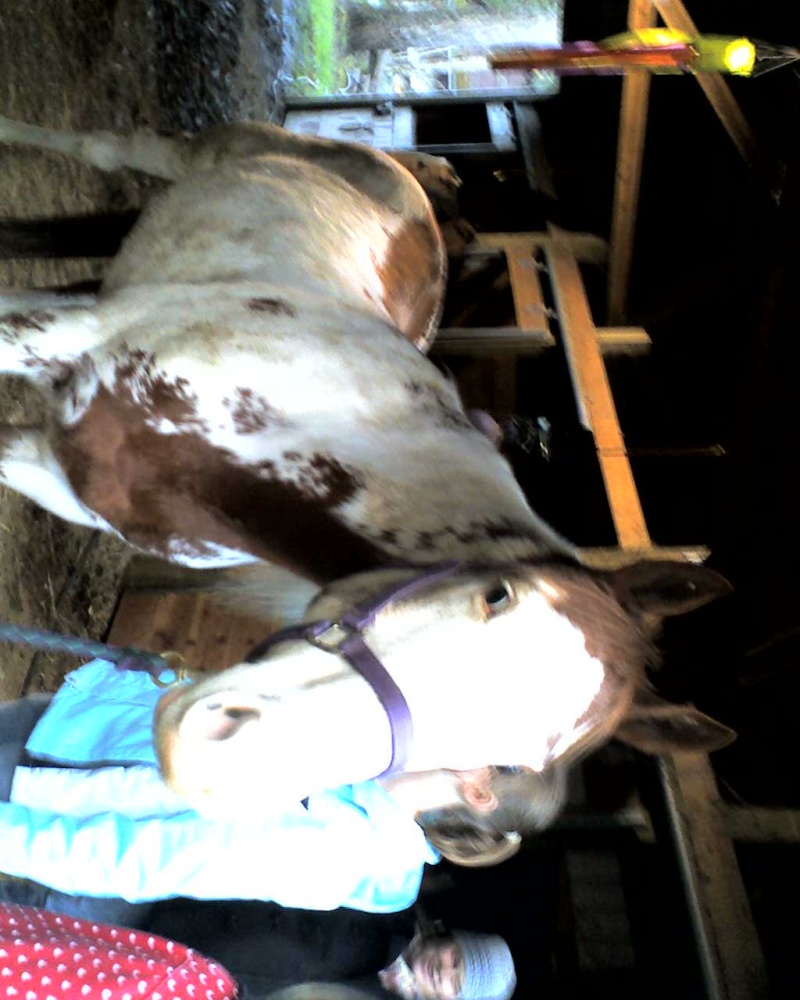 Here's me and Gus, he's just like a puppy, he always wants you to hug him or kiss his nose. So cute!
Please tell me what you think of him!!! I would love to hear what you think!!! Please keep your comments nice, and be nice if you don't like something about him.
Last edited by Fearless on Wed Dec 02, 2009 2:01 am; edited 1 time in total

Fearless




Posts

: 127


Join date

: 2009-09-27



no picture and thank you for texting me

Love,Peace,Serenity




Posts

: 56


Join date

: 2009-10-18



noooo its not working!!!! I have to find the pictures!!!

Fearless




Posts

: 127


Join date

: 2009-09-27



HE IS SO AWESOME! i want him! jk he is really cute i would take him but yeah he is SOO cute!

Love,Peace,Serenity




Posts

: 56


Join date

: 2009-10-18



He needs a wash trip and probably a clipping, how old is he is he from a riding school and what are his feet and teeth like?
Looks a little small in the barrel. Does the gear come with him. make sure the saddles checked and fitted hes a little low in the spine but high in the shoulder, make sure hes got a thick blanket under the saddle to prevent rubbing.

Get some updated pics and let us know hows hes going.


What will you be using him for?
Showing/pleasure or just to learn to ride?
Love,Peace,Serenity:
Thank you! I really like him and i'm really excited!


ADMIN:
I'm hopefully gonna show him in dressage this spring. My riding teacher just had her baby yesterday (so exciting! Baby Brooklynne Jewell!) so she wont be able to give me lessons for a few weeks at least but he is coming on the 19th so i have a bit of time.
He's 13-ish, he is at his owner's house in a little 4 horse barn with 3 other horses. They dont do much with them so they are selling them all. We are doing a trial lease for Christmas vacation and if he works out he will stay for a year's lease and we might buy him after the year's up. Its winter so we cant give baths at the barn i'm at but where Gus is they have a hot water tank so we might go up and give him a bath with hot water a few days before they bring him down. His feet are good. I have my own saddle (that fits him, and amazingly fits every other horse i ride, from a narrow thorouhbred i tried to my large mare Shally that i had.) and that fits him too and i think his bridle comes with him but i have my own (that will fit) if I dont get his.
I am going down to ride him again on monday the 7th so i will take more pics (and maybe even video, we'll see i'll have to remember my camera).

Fearless




Posts

: 127


Join date

: 2009-09-27




---
Permissions in this forum:
You
cannot
reply to topics in this forum