Here she is on her IV. Its like a panorama i took with my cell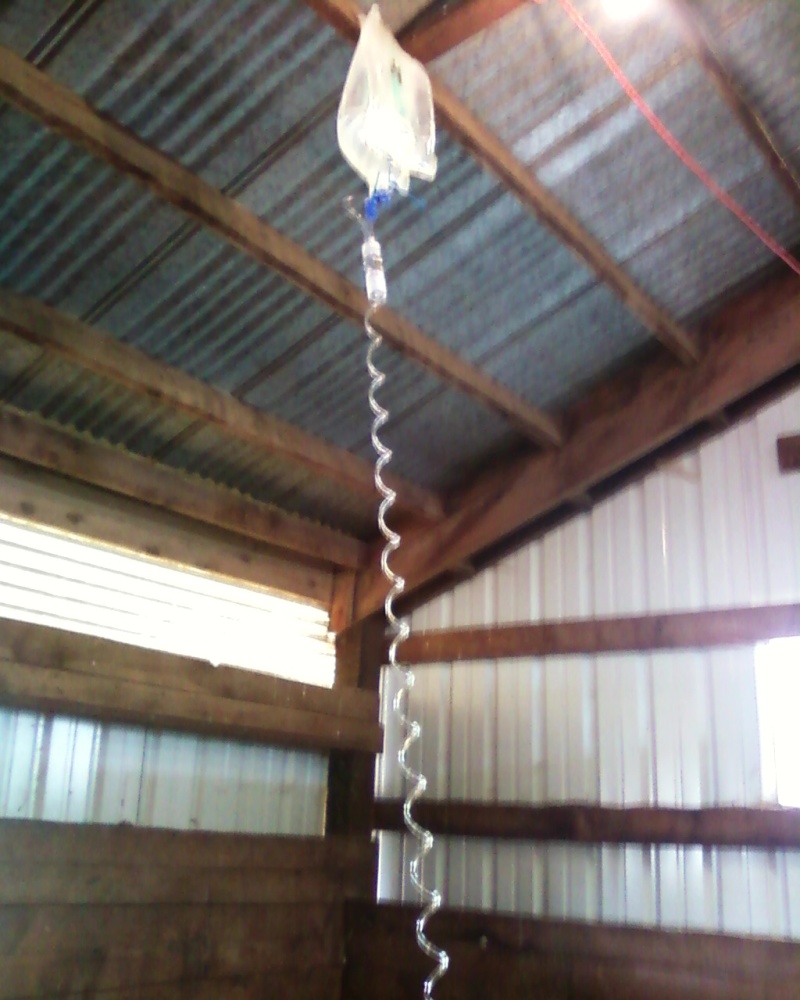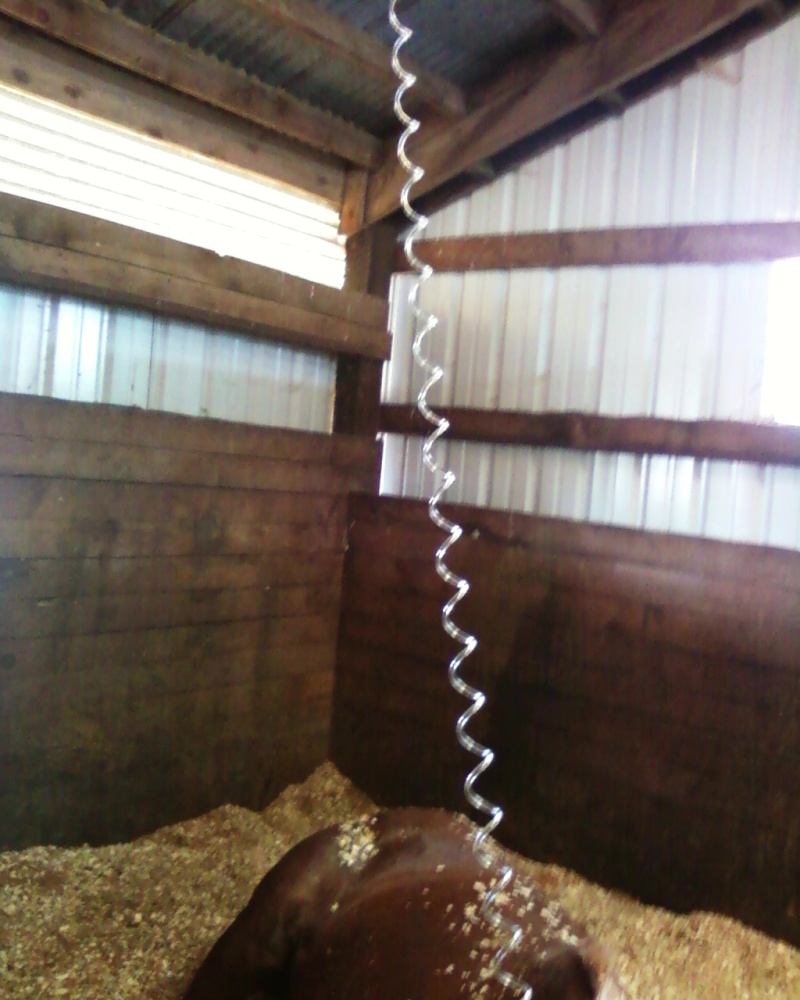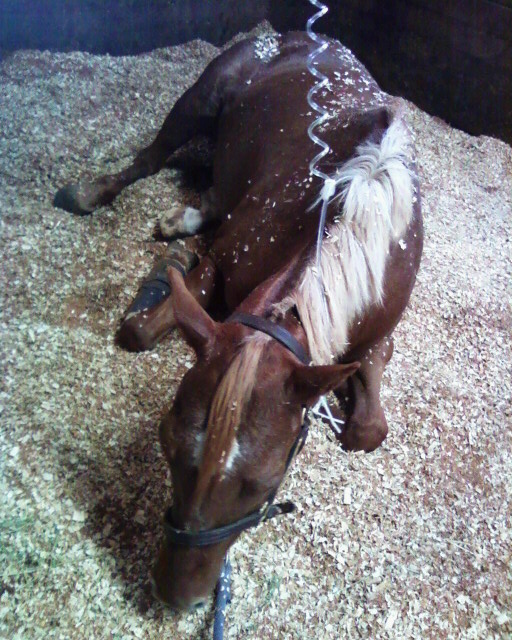 I havent been on much because
my horse just died
. She was so special to me. She had diarhea because of her antibiotics for her infected leg, which was in the tendon sheath, like we feared. We quit the antibiotics once she started having tummy troubles. Then we got a call from my friend who said she had scabby marks on her, and she was lying down and rolling. We got there and she had colic. She had giant rub spots from trying to get up all night, cause she was cast against the wall. We walked her until the vet came out, and she said she was really dehidrated so we put her on IVs. She had two 2 liter bags of liquid every half hour. We stayed up with her all night. Then she took a turn for the worse. Her gut had twisted. The vet came out to put her down. I begged them not to, to do something, but the vet said there was nothing they could do. I begged, and cried, and screamed. My mare was grunting with every breath from the pain. Then my dad and my friend's mom took me in the house where all my best friends were waiting to comfort me. I was crying hysterically. Then, ten minutes later we went back out to the barn, and when i walked in i screamed beccause she was lying on the ground...gone. I cried and screamed and yelled. My dad took me to sit by her head. She died at 2:40 in the morning, on 10/10/09. I took her forelock, and it matches my hair perfectly, we were two red heads. She is laid to rest here, at Omega Farms. The nice guy came and got her, and he took her to his farm, where he buried her for us. Rest in peace my dear Shally, i know you dont hurt anymore, and i will wait till the day when we both see each other again.
CB Lady Of Shalott, April 5th, 1999 to October 10th, 2009
On top of it all I recently learned that a b**** from my school was posing as me on the old Horse Country. I cant belive someone would do such a thing. To make it all clear, I am the real owner of CB Lady Of Shalott, American Paint Horse Association registration number 620,333. I cant f***** believe the lengths this girl went to to pose as me. She kept asking me about my horse while we were at school, and she found my photobucket account and took the pics from it and posted that it was her. I'm not even that pretty or popular or rich or anything! Well, she's a lowlife sl**, and so I guess i'm more popular than her, but do not believe anything she told you I AM THE REAL OWNER OF SHALLY. I think her username was like Shally Ally oo or something. I just cant fu**** belive what she did!!! and now i find out about it right after my horse dies. How could life get worse?!?!?!

Fearless




Posts

: 127


Join date

: 2009-09-27



thats terrible, about loosing her. Shallay ally ooo yes i know who your refering to were you on the old horse country?
no, but i found out that the girl from my school was. i heard her telling her friend about it last week, but i wasn't on here because me horse died, and i'm still grieving.

Fearless




Posts

: 127


Join date

: 2009-09-27



and you wouldnt have known because you were not on horse country one. heres things she posted:
http://horsecountry2009.rpgdynasty.net/chat-room-f5/a-prettiful-picture-of-my-horse-t1576.htm
http://horsecountry2009.rpgdynasty.net/chat-room-f5/here-s-the-poem-that-my-horse-is-named-after-t1361.htm
http://horsecountry2009.rpgdynasty.net/chat-room-f5/my-riding-camp-s-drill-pic-t1310.htm
http://horsecountry2009.rpgdynasty.net/chat-room-f5/pics-of-mine-and-shally-s-first-dressage-show-shally-is-my-horse-s-name-t1204.htm
http://horsecountry2009.rpgdynasty.net/chat-room-f5/pictures-i-made-t1049.htm
http://horsecountry2009.rpgdynasty.net/chat-room-f5/pictures-i-made-t1049.htm
She must have got the pics from our show from my blog (which is now not available anymore, i made it private for obvious reasons) because i posted them on there. I only put a few, the ones with descriptions, so she must have followed the link to my album on photobucket. All the rest of the pics were from my blog too, except the photoshop ones, she made those. They're actually ok, but i didn't make those. The poem she got from my binder, where i had it on the front. And i did a report about it for school. I looked through the other posts from the website and found some videos from my youtube channel, which must be where she got the username for the old horse country. Thats my username on youtube because i used to call out "SHALLY ALLY WOO-OOO" when i wanted her to come in from the pasture. She was quite crafty, i found out she even made an email address that says "emmalovesshally" which i have written all over my binder also. I really cant believe the lengths this person went to. Some people just don't have lives.

Fearless




Posts

: 127


Join date

: 2009-09-27





Similar topics
---
Permissions in this forum:
You
cannot
reply to topics in this forum